Radiators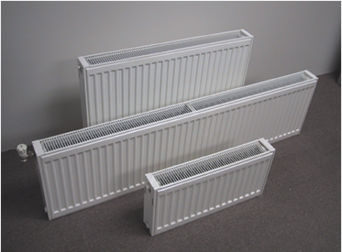 Thermo Tech Hydronic Panel Radiators provide…
| | |
| --- | --- |
| COMFORT | Radiates heat evenly and operates quietly without dust and dirt circulation. |
| STYLE | Elegant and slim design will complement and décor. |
| EFFICIENCY | Thermo Tech Radiators are designed to provide a large radiating surface and improve Heat transfer by steel convectors welded on the water canals. |
| QUALITY | Rugged STEEL construction, manufactured with precision Swiss technology. |
| VALUE | Priced right to provide a high value hydronic heating option. |
Thermo Tech Hydronic Panel Radiators offer unique benefits for end users and contractors.
Thermo Tech includes a thermostatic control valve and hidden dual pipes in the radiator.
Supply and return conections are located side-by-side at the bottom of the radiator, allowing
one point of connection on the wall. Individual thermostat adjustment and minimal pipe
connection provide a superior product with easier installation and better appearance.