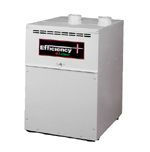 The Efficiency+
It's the little things
The Efficiency + is quietly heating more and more homes and small businesses across America and throughout the world. This quiet revolution is the product of years of research and development, which has resulted in a boiler that provides all the bells and whistles typically found on giant commercial boilers in a package small enough to fit in a closet. Operating at 84% thermal efficiency, the Efficiency+ easily meets expectations and requirements. What makes the Efficiency+ unique is its ability to focus on the little things - so you don't have to.
Ease of Installation
When installing the Efficiency+, you'll notice that the details have all been taken care of. It's smaller than most units of comparable BTU input, so it will fit just about anywhere you need to put it. And it is available in four venting options, including horizontal and vertical direct venting, so wherever you put it, it's easy to vent - with or without a chimney. Plus, it weighs less than comparable units because of design advantages such as a copper tube heat exchanger and Loch-Heat tile - a remarkably light insulation material used on the space-shuttle during re-entry and on the Efficiency+ combustion chamber - so it can be handled by just one man.

Serviceability
The Efficiency+ is designed to be installed and forgotten about, quietly and reliably heating away. It includes an integrated control system that ensures safe burner operation and prevents flame-failures. It continuously monitors the flame and can even restart the ignition sequence automatically. Plus, the Efficiency+ comes standard with a burner flame observation port and internal diagnostic lights which can help pinpoint any problems, making trouble-shooting easy.

Efficiency
The Efficiency+ more than lives up to its name with an outstanding 84% thermal efficiency rating. Two-stage firing is standard on all Efficiency+ boilers, providing dramatic fuel savings by reducing heat output by 50%. This means when outdoor temperatures become warmer, the boiler will use less fuel to maintain comfortable indoor temperatures, matching the heat output to the system demand and maximizing operating efficiency.

The Details
The Efficiency+ is full of hidden advantages - details you'll notice when they matter most. For example, if you live in the Northeast or in the Mountain States, where natural gas supply pressure is in the 4 - 5 inch range you'll appreciate the fact that the Efficiency+ is designed to operate on low gas pressure. If you're using radiant heating, you'll love that the Efficiency+ is easy to adapt to the low water temperatures typically used in radiant heating, and that the unit's low-mass design means that water gets heated quickly, delivering a quicker response to demand and providing significant savings. And everyone can appreciate the fact that the Efficiency+ has the lowest NOx rating in the industry, helping to keep our environment safe.

Trust the Hydronics Leader
For more than 75 years, Lochinvar has been manufacturing boilers and improving upon their performance. We have one of the most ambitious research & development programs in the business. That's why the Efficiency + incorporates so many solutions to so many needs. Efficiency+ takes comfort and savings to the next level.
Double Duty Residential Gas | Efficiency+ | Mini-Fin