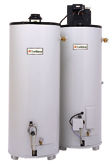 Double Duty – Atmospheric and Direct Vent Gas Heaters
Double Duty Atmospheric and Direct Vent Gas units heat water for domestic use and store it in a triple tested, glass-lined storage tank. While in the tank, this domestic hot water transfers heat to our Therma-Tube heat exchanger surrounding the inside of the tank. Within these tubes, water for space heating is circulated and heated. This internal heat transfer allows the Double Duty to serve two purposes. It provides hot water for domestic use while maintaining a comfortable space temperature via hydronic or radiant heating.
By sharing heat for two purposes, efficiency is increased. That means less energy is needed, which means more money is saved.
Therma-Tube heat exchanger - With the Therma-Tube anti-leakage system heating fluid is separated from domestic water by a double-wall tube using an internal leak path to the exterior. Heating fluid is circulated in a primary metallic inner tube. A secondary, thermally stabilized, high-density polyethylene tube surrounds the primary tube. Monofilament lines between the two walls providing a positive leak path channel to the outside of the unit.
Outstanding Features and Benefits
One appliance easily handles the job normally done by two
Mixing Valve

10 Year Limited Warranty

Lower installation cost

Lower maintenance cost

Lower annual operating cost

Lower purchase cost

Valuable space saved for other purposes
Double Duty Residential Gas | Efficiency+ | Mini-Fin