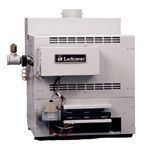 Mini-Fin The Smarter Choice
Have you ever wondered if there was an alternative to all of the look-alike residential boilers out there? A better mouse-trap that doesn't come packaged with all of the problems so common to the typical residential boiler? Well, you've found it. But you have to go against the grain to cash in on all of the advantages that come built in to these boilers. They aren't built the same way as all of the other mouse-traps. They're built better. We've combined the best of cast-iron technology with copper technology to create a more efficient, longer lasting, lighter weight, boiler for residential heating that has a smaller foot-print and is easier to install and service. We call it the Mini-Fin.
Big on Efficiency
At the heart of the Mini-fin is our own cast iron/copper-finned heat exchanger. Using a unique gasketless design, we've combined the best of both worlds: cast iron headers for long-lasting durability, and specially finned copper tubing for higher energy efficiency. In fact, the Mini-Fin is rated up to 84.2% A.F.U.E.-which means lower energy consumption and operating costs.
For maximum performance, the copper fins are extruded directly from the wall of the copper tube. The result is a heat exchanger that has a heat transfer ratio 9 times greater than ordinary copper tube. Plus, because it's copper, there's no need to worry about rust or corrosion-it simply lasts longer. And the gasketless design reduces the risk of leaks or system failures that are so common with conventional boilers.

Small on Space
A high efficiency Min-Fin can not only do the job of other boilers for much less- it also needs less space. Our 45,000 BTU unit has a footprint of less than 2.5 sq. feet. It features a smaller profile, too. With an overall unit height of just 28 inches, the Min-Fin is a natural choice for applications where headroom restrictions are factor.

Easier to Install
The Mini-Fin combustion chamber is insulated with our special Loch-Heat ceramic tiles. These interlocking tiles not only insulate better than standard materials, they're also more durable. And unlike refractory-lined combustion chambers, this space-age material won't ever crack or spall. Developed from the same technology used to protect the Space Shuttle during re-entry, Loch-Heat insulation is thinner and lighter than standard refractory. Up to 25% lighter, which makes installation and servicing much easier. In fact, Mini-Fin units start at just 113 lbs.-so they can easily be handled by just one man.

Easier to Service
What's more, the Mini-Fin allows easy access to all major components for servicing. We even designed the heat exchanger to slide right out the front of the boiler for faster maintenance, and we back it with our exclusive 20-year Limited Warranty.

Only From Lochinvar
Lochinvar has over 75 years' experience in heating water, so you can depend on our products to deliver the performance, convenience and reliability you need. And with the most aggressive engineering department in the industry, you can count on the advanced technologies we deliver to make your business better. Make the smarter choice. Lochinvar Mini-Fin.
Double Duty Residential Gas | Efficiency+ | Mini-Fin