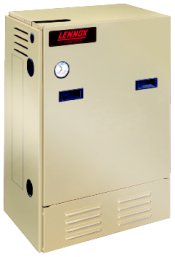 Conservator™ 90 HIGH-EFFICIENCY
GAS-FIRED WATER BOILER
In Need of Comfortable Home Heating?
A cup of hot cocoa, the warmth of a crackling fire, your favorite wool sweater -- all of these things can keep you warm. But only Lennox can provide comfort that lasts beyond the last drop of cocoa, the last log in the fire and that sweater you outgrew last winter.

With many options to choose from, Lennox' Conservator 90™ Series boilers offer exceptional comfort in a variety of configurations to accommodate nearly every home.
For more than 100 years, people have trusted Lennox to make their lives more comfortable. Our boilers continue that tradition by offering reliable comfort, exceptional value and long-term savings. That's the kind of quality you've come to expect from Lennox.

Everyone wants to have control over their energy bills. And, with the Lennox Conservator 90 Series boiler, you can do just that! This innovative water boiler reaches new heights in efficiency with an A.F.U.E. of 90%. This means that 90 cents of every dollar used to heat your home is being put to good use.
The heart of the Conservator 90 high-efficiency water boiler is its cast aluminum heat exchanger, which transfers heat three times faster than conventional cast iron. This ultra-efficient material means you'll feel comfortable warmth quicker. It also makes the boiler ideal for use with radiant systems.
This lightweight boiler's compact size allows for simpler installations in a basement, closet or an alcove enclosure, and it can be fueled by either natural* or LP gas in order to meet your specific needs.
The Conservator 90 water boiler can protect your family not only from the harsh temperatures of winter but the shock of outrageous energy bills as well, giving you...One Less Thing To Worry About.®
*Shipped as natural gas. Convertible to LP.


This product has earned the Good Housekeeping seal.


Hydronic heating is a sealed system, which means recirculation of air is eliminated. This means no open ducts to transmit dust or allergens, so you'll breathe easier.


Feature
Benefit
Economical Energy Efficiency and Quiet Operation
Cast Aluminum Heat Exchanger
Extremely efficient material that heats up three times faster than cast iron.
Sealed Combustion
Minimizes fan noise and provides quiet, peaceful heat.
Quality Construction, Built to Last
Constructed of Aluminum Alloy
Time-tested material that has proven to be corrosion-resistant.
Durable Cabinet/Paint
Constructed of heavy gauge steel with a baked-on paint finish for professional appearance year after year.
Attention to Details
Low Temperature Supply & Return Water
Makes the unit ideal for radiant systems without having to use complex and expensive mixing devices.
Ability to Use PVC Vent Pipe
CPVC pipe is required for the first five feet of venting (supplied with boiler) and then inexpensive PVC for the remainder which makes installation easier, ultimately saving money.
Additional Features
Warranty
Fifteen-year limited heat exchanger warranty. One-year limited covered parts warranty.
Unit Test
Every unit is fire tested prior to shipping for quality assurance.
GWB9-IH High-Efficiency, Gas-Fired Hot Water Boilers Data and Capacities
Model #
Input
Btuh†† (kW)
Heating Cap.
Btuh†† (kW)
*Net I=B=R
Btuh†† (kW)
**A.F.U.E.
Number Of
Boiler Sections
Boiler Capacity
US Gal (L)
GWB9-050IH
50 (14.7)
45 (13.2)
39 (19.9)
90%
2
2.6 (9.8)
GWB9-075IH
75 (22.0)
68 (19.9)
59 (17.3)
90%
2
2.6 (9.8)
GWB9-100IH
100 (29.3)
90 (26.4)
78 (22.9)
90%
2
2.6 (9.8)
Model #
†Flue Size
Outlet Diam.
Inch. (mm)
Package
Ship. Wt.
Lbs. (kg)
Gas Pip.
Size IPS
Inch. (mm)
Supply/Return
Connec.NPT
Inch. (mm)
Drain
Connec.NPT
Inch. (mm)
DIMENSIONS
Wdth/Dpth/Hght
GWB9-050IH
2" (9.8)
220 (3.1)
.5" (12.7)
1.25" (31.8)
.75" (19)
28.0" 19.75" 39.50"
GWB9-075IH
2" (9.8)
220 (3.1)
.5" (12.7)
1.25" (31.8)
.75" (19)
28.0" 19.75" 39.50"
GWB9-100IH
2" (9.8)
220 (3.1)
.5" (12.7)
1.25" (31.8)
.75" (19)
28.0" 19.75" 39.50"

††Btuh in thousands
*Net I=B=R ratings indicate the amount of remaining heat the boiler can provide to heat the radiation of terminal unites under normal conditions and thermostatic control. Ratings are based on an allowance of 1.15 in accordance with the piping and pickup factors shown in the I=B=R Standard as published by The Hydronics Institute, Inc. Selection of boiler size should be based on "Net I=B=R Rating" being equal to or greater than the calculated heat loss of the building.
**AFUE (Annual Fuel Utilization Efficiency) and Heating Capacity is based on the Department of Energy's test procedure.
†Maximum allowable length of vent and intake pipe is 20' (6.1m) each of 2" (50.8mm) PVC with 4 ells or 100' (30.5m) each of 3"(76.2mm) PVC with 4 ells for Models GWB9-050IH and GWB9-075IH.
†Maximum allowable length of vent and intake pipe is 15' (4.6m) each of 2" (50.8mm) PVC with 4 ells or 80' (24.4m) each of 3"(76.2mm) PVC with 4 ells for Model GWB9-100IH.
† The first 5' (1.5mm) run on the vent pipe will be 2" (50.8mm) CPVC (furnished).
Note: Due to Lennox' ongoing commitment to quality, all specifications, ratings and dimensions are subject to change without notice.
As an EnergyStar® partner, Lennox Industries Inc. has determined that some or all models of this product meet the EnergyStar guidelines for energy efficiency.